Multi-currency Cash Passport
Recharge it
Simply get in touch with your executive who will advise you and provide you with more information on how to recharge your card, or enter your Intercam online banking or mobile banking.
The maximum amount you can top up is $ 10,000 USD or its equivalent in any other currency.
The sum of all currencies at no time can exceed $ 10,000 USD
Find your nearest Intercam branch here.
Please contact your place of purchase for more information on how to recharge
Comfortable
You only have to load one or more currencies to your card.
You can use your convenient currency card at millions of ATMs and merchants worldwide displaying the Mastercard Acceptance Mark.
Keep your card loaded and you're ready for your next trip abroad.
Card security
Every day activity on the Mastercard Multi-currency Cash Passport prepaid card is monitored for unusual behavior, and if anything is discovered we will contact you to review your transactions.
How does it work
Join the growing number of travelers around the world who are choosing the Multi-currency Cash Passport ™ prepaid card as the convenient and safe way to carry their travel money.
No matter where you are in the world, your card always knows which currency to use.
IF the local currency is not one of the currencies on your card, or if you do not have sufficient funds of the local currency on your card, then the remainder will be withdrawn from another currency on your card in the following order:
US dollars, Canadian dollars, British pounds, Euros, and Japanese yen.
Please note that a commission will be charged at the foreign exchange rate if this occurs.
For more information see the Terms and Conditions of the card.
Get your card
Where can I get the Mastercard Multi-currency Cash Passport prepaid card? You can buy your own card at any participating Intercam branch.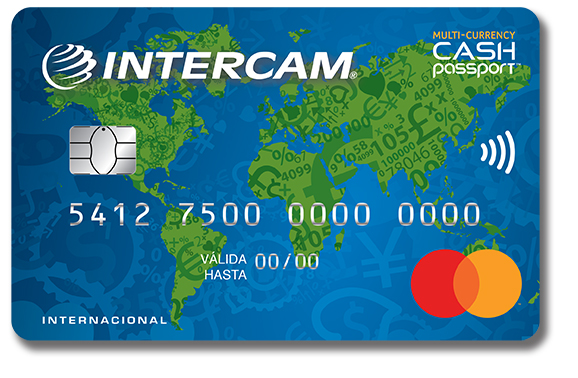 Obtaining your Multi-currency Cash Passport is very simple:
We need to identify you. You will need a valid ID + and be 13 years or older *.
The card can be loaded in any available currency, although the payment will be in Mexican pesos and the exchange rate will be applied by the branch.
* Minors between 13 and 18 years old must be accompanied by their parent or guardian. Both parent and guardian must show valid identification at the time of purchase.